<< Back CSA Summer Cookdown #3: Thai Cucumber Salad
Even without the large batch of cucumbers we got from the CSA share, we've been up to our eyeballs in them, thanks to the same friends who kindly donated their CSA share. We trade for zucchini for these on occasion--Zukes for Cukes, as Christine calls it. After foisting as many of these onto our other friends as we could, we still had a boatload to deal with. Our friend Jen wisely recommended this recipe for a Thai cucumber salad. Since we also had some jalapenos and cilantro to use up, this seemed perfect.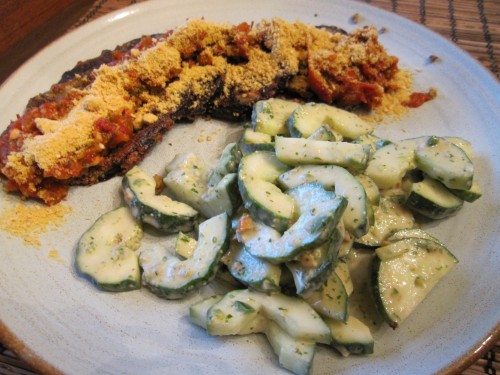 The recipe called for 1/2 cup of white sugar, which seemed like a lot, so we decided to try nixing it, supplementing with agave if necessary. It also called for fresh peanuts, which we didn't happen to have on hand, so we subbed crunchy peanut butter. We also reduced the vinegar a bit--1/2 cup of rice wine vinegar seemed like a lot. The result was pretty amazing--zesty with just the right amount of zang. It didn't necessarily complement the eggplant parmesan we were having as leftovers, but would be a great addition to any number of summer meals.
Thai Cucumber Salad
3 large cucumbers, peeled, halved lengthwise, seeded, and cut into 1/4-inch slices
1 tablespoon salt
1/4 cup rice wine vinegar
2 jalapeno peppers, seeded and chopped
1/4 cup chopped cilantro
1/2 cup crunch peanut butter
1/8 cup water (just enough to thin this enough to coat the cucumbers)
Mix all of the above ingredients in a large bowl. This refrigerates well, so you can make it in advance of a more complex meal, if necessary.
3 cucumbers down, 8 to go...