Some excellent friends recently entrusted their cats feeding/watering/nuzzling to us for a week while they're on vacation. Since they wouldn't be around to use it, they kindly left us their CSA share as well.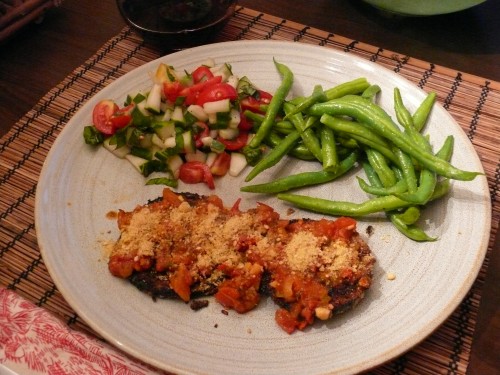 For folks who don't know, a CSA--Community Supported Agriculture--is a program offered by local farms to essentially sell folks a share of their produce over the entire growing season. This is awesome on many levels:
You're contributing to local farms and the local economy.
You're investing in the farm in advance--this allows them to secure the resources they need and provides them with a modicum of security in what can sometimes be an uncertain profession. If they have a great growing season, you reap the rewards. If it's a tough season, you help shoulder the burden.
You learn to eat seasonally. You get a lot of produce--and you get whatever is growing at the time. This means you only get asparagus for a month and that you don't get tomatoes until July. Spinach comes pretty early, then lettuce, then various greens like collards, and finally kale (okay, our garden kale came in just after the lettuce). Instead of cooking what you want, you cook what you get.
You save money. Family shares are around $500 - $600 for about 20 weeks. While this sounds like a lot--and is a sizable investment--it actually breaks down to only $25-30/week. If you eat as much organic produce as we do, this is actually pretty cheap. Of course, the shares in those early weeks are pretty slim compared to what you get once everything is in full swing.
Despite these myriad and overwhelming virtues, we've never actually purchased a CSA share. We travel a lot in the summer, and we have gardens of our own, so it's never quite worked out. Our newest resolution is to split a large share--this is a great way to share with friends who also like to travel and/or who also have gardens.
But I digress. The real lowdown is what we did/are doing with an entire CSA share as well as the food from our gardens and the food from our friends' garden. Here's what we got from the CSA:
 1 large eggplant
2 large heirloom tomatoes
2 smaller tomatoes
1 pint of cherry tomatoes
1 bunch of collard greens
1 bunch of everlasting spinach
1 bag of green beans
1 bunch of mint
1 quart (roughly) of potatoes
2 bunches of basil
~6 cucumbers
2 small summer squash
2 shishito pepper
1 large red pepper
garlic
purple and white onions
crimini and shitake mushrooms
Add to this another 6 - 10 cucumbers, 15 jalapenos, and an assortment of small, hot peppers from our friends. Also add to this a few of our own heirloom tomatoes, tons of cherry tomatoes, zucchini, green beans, basil, cilantro, and kale from our own garden, and we've got a veritable produce storm on our hands.
We began our attack by making a
salsa
out of a large heirloom and several smaller tomatoes, purple onion, and cilantro. We moved on to the eggplant--which we've had mixed luck with over the years--and made an eggplant parmesan. Here's how:
Grilled Eggplant Parmesan
Grilled Eggplant
1 large eggplant (male, I think), sliced into disks, about 1/4 inch thick
olive oil
1 handful of fresh basil, diced
1 batch of chik'n almond bake (you'll need nu yeast, garlic powder, onion powder, salt, pepper, and almonds/almond meal handy)
homemade parmesan (optional--you'll need nu yeast and sesame seeds for this)
Pour the olive oil into a shallow bowl and the almond bake into another (do this in batches, refilling). Have a plate or pan ready to place the eggplant on. Mix some basil in with the olive oil (you'll need to replenish the oil frequently--eggplant soaks up a lot of oil). Once the eggplant is coated with oil on both sides, toss in the almond bake, coating well, then place on plate/pan. Repeat for remaining eggplant, refilling the oil and almond bake as needed. Grill at ~400 degrees Fahrenheit, until both sides are browned and crisp, about 5 minutes to a side.
Top with this sauce:
Savory Summer Tomato Sauce
2 gigantic or 6 small tomatoes, diced, but not de-boogered
1 red bell pepper, diced
1 - 2 hot peppers, seeded and diced (optional, but the heat cooks down)
1/2 - 1 HEAD of garlic, minced
1/2 peach, diced
olive oil
1 - 2 handfuls of fresh basil
~1 tbsp fresh thyme
~1/4 cup red wine
salt (we used a combination of sea salt and smoked alder salt, to give it a little rich smoky undertone and counterbalance the peach)
In a large saucepan or pot, sautee the garlic in olive oil over medium heat. After a few minutes (before the garlic has browned), add in the peppers. Once the garlic begins to brown, add in the tomatoes, peach, and wine, stirring well. Let it cook down until it starts to thicken, then add in the herbs and salt.
Serve the sauce over top the eggplant, on pasta, or on both.
We rounded the meal out with some fresh steamed green beans (tossed in Earth Balance, salt, pepper, and garlic powder) and a refreshing cucumber salad, as follows:
Simple Cucumber Salad
1 large cucumber, cut into small pieces
~10 cherry tomatoes, quartered
~2 tbsp olive oil
1 handful of basil, chopped
1 tsp truffle oil
sea and truffle salt
black pepper
drizzle of balsamic vinegar (optional)
1/4 purple onion, diced (optional)
Combine all ingredients in a large bowl, then salt and pepper to taste.
Not bad for our first pass at CSA living! Up tonight, French Onion Soup and spinach greens.