<< Back Designer Imposters #1: Pizza a la Denver's City O' City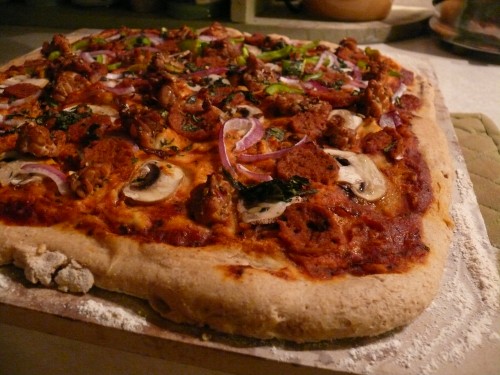 On our recent Southwest road trip, we found ourselves hurling through the Rockies in the early dark of night, heading toward Denver. The drive started pleasantly, heading Northeast out of Arches National Park in Utah, along the Colorado River. The mountains were unbelievably large. I mean, there are mountains, and then there are mountains. But as night fell, the majesty gave way to anxiety; driving in the mountains at night, around blind curve after blind curve, wreaks havoc in the nerves. And arriving famished in a strange town at 11pm is rarely a good thing.
So imagine our elation when we arrived at City O' City, an all veg pub with a kitchen serving vegan pizza and wings. Imagine our ecstasy upon receiving this: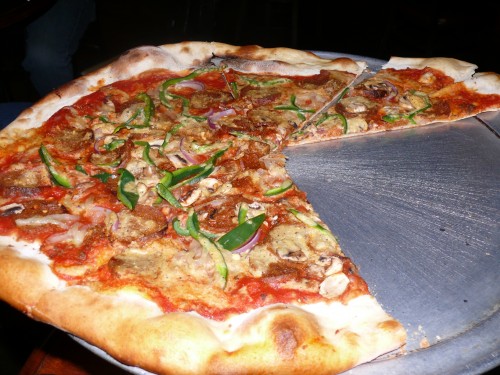 This is hands down the best vegan pizza we've ever had at a restaurant. They offered both Daiya (tm) and their own house-made cashew ricotta. And I hope this redeems our guilty pleasure a bit--we went with the cashew cheese. It was awesome. The pizza we got was the "animal lover's"--carmelized onion, regular onion, green peppers, sausage-style seitan, and pepperoni-style seitan (also both made in-house).
We've been vegan for a long time. I was already vegetarian by the time I could drink legally, and already vegan by the time I started grad school, when I found myself chained alternately to a desk and a bar stool. For years I watched my friends and colleagues order delicious pub pizza at the end of a drunken night, jealous and salivating. And finally, years later, City O' City has scratched that age-old itch. We ate amazing pizza, with beers, late at night.
And it was amazing vegan pizza. With hand-made ingredients.
Suffice it to say, this blew our minds (and our bellies).
Suffice it to say, we had to replicate this.
And lo and behold, replicate it we did!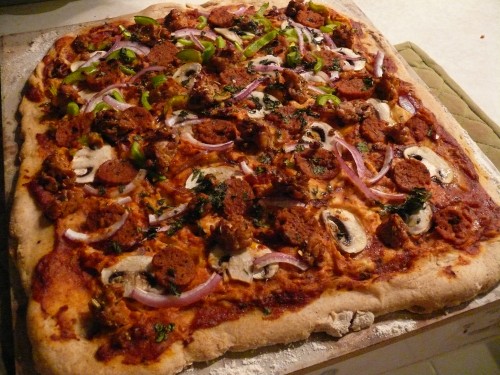 Be forewarned--this ones takes some serious prep, but you can double up to save ingredients for a second pizza later or, better, make a few pizzas with friends and beers.
There are five key components to this pizza: the cheese, the sauce, the crust, the sausage, and the pepperoni. Let's tackle them in order.
The Cheese
This is pretty much an augmented version of our standard cashew cheese, but with a bit of nu yeast and vegan parmesan.
1 cup raw cashews, soaked 5 hours or more
1/4 cup (or a little more) water
1/2 tsp (or more to taste) salt
3 tbsp lemon juice
1/2 - 1 tsp nutritional yeast
1/2 - 1 tsp vegan parmesan
Blend all ingredients until smooth, then refrigerate for at least a half hour (preferably more) before using.
The Sauce
We kind of cheated on the sauce. We bought a simple pre-made sauce (Eden Organics (tm)--they're local to us) and doctored it a bit. City O' City had a delicious, tangy sauce, with mild chipotle flavor. So, not surprisingly, we just added a little chipotle chili powder and a bit of sugar to sweeten the sauce a bit.
1.5 8oz cans of tomato sauce
1/2 - 1 tsp chipotle chili powder
2 tsp sugar
The Crust
We adapted
this recipe
from VegWeb for the crust, doubling it and modifying a bit.
2 tbsp yeast
1 cup lukewarm water
2 tsp salt
a touch of agave or sugar (to feed the yeast)
4 tbsp vegetable oil (we used safflower)
3 cups all-purpose flour (plus some for sprinkling on your rolling surface)
Preheat oven 425 degrees Fahrenheit (with the pizza stone in the oven, if using). Mix the yeast with the lukewarm water and sugar/agave until the yeast is dissolved and let stand for a few minutes. Add in the oil and salt next, then mix. Add in the flour in increments, mixing between each addition. Sprinkle pizza stone (or pan) and rolling pin with flour, then roll the dough out directly onto the stone/pan. Bake for 5 minutes (before you add any sauce or toppings) then brush with olive oil.
The Sausage
City O' City used seitan for both the sausage and pepperoni, but we prefer to use different types of faux meat for recipes that traditionally call for multiple meats (like gumbo, for instance). So we went with a tempeh sausage (though I'm sure a seitan style sausage would be awesome--City O' City's sausage and pepperoni both kind of tasted the same, truth be told).
1 package of tempeh, torn into sausage-y size bites
1/8 cup soy sauce
1/8 cup water
1.5 tbsp oregano
1 tsp ground cumin
1 tsp fennel seed
1 tsp crushed red pepper
Tear the tempeh into pieces in a large bowl. Mix everything but the tempeh in a small bowl. Pour the mix in the tempeh, little by little, coating all of the tempeh thoroughly. Refrigerate and let marinade.
The Pepperoni
We also kind of cheated on this one. We used previously-made Italian-style brats and created a marinade for them. The result was pretty amazing, actually. But generally, we'd probably make this from scratch.
FatFree Vegan Kitchen has a great recipe
.
So does Vegan Dad
. There are lots. But, if you happen to already have some homemade Italian-style brats on hand (and why wouldn't you?), this is a great shortcut.
2 Italian-style brats
1.5 tsp paprika
1/2 tsp fennel seeds, ground coarsely (using a mortar and pestle)
1/2 tsp ground mustard seed
1/4 tsp garlic powder
1/2 tsp freshly/coarsely ground black pepper
1/4 - 1/2 tsp red pepper flakes
1/2 tsp Liquid Smoke (tm)
1 tbsp tomato paste
In a shallow container, mix everything but the seitan. Once mixed, toss the seitan, coating well. We use a sealable container and shake it thoroughly. Refrigerate.
Putting it all together
Cut whatever veggies you'd like into whatever size pieces you like. We used white button mushrooms, thinly sliced; peppers, diced; fresh basil, diced finely; and purple onion, cut into rings, then halved or quartered, half raw and half caramelized.
Once the crust has been pre-baked and oiled, you're finally ready to assemble this beast. Spread the sauce on the crust first. Next, dollop on the cashew cheese, then spread gently (it'll mix in with the sauce a bit, but that's okay). Add all of the toppings, then drizzle lightly with olive oil. Bake at 425 degrees for 12 - 14 minutes.
Get ready for the awesomeness.