Garlic scapes, that is. Never heard of 'em? We hadn't either until Amy recently stumbled upon them in a blog post (which we cannot, for the life of us, locate--thank you anonymous vegan blog--you are a true unsung hero).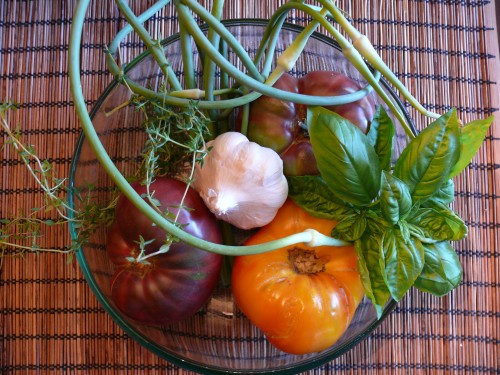 Garlic scapes (the long curly green stalks in the picture above) are the young stems from growing garlic. They are harvested before the plant matures, and are packed full of delicious garlicky flavor--though not quite as intense as the garlic itself. They are seasonal, and thus are well worth grabbing when you happen upon them. They may seem a bit pricey, but a little bit goes a long way, and they last for quite a while in the fridge. We've been using them in everything lately.
Also pictured above, the first heirloom tomatoes from the farmer's market! We've been jones-ing for some real, fresh, local tomatoes, and these were just the ticket. Also pictured above: garlic from the farmer's market and fresh herbs from our own garden.
We've also begun harvesting green beans and zucchini, not to mention the lettuce and kale that have been growing like champs since early-mid june.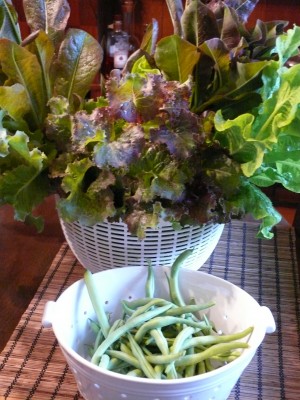 As you might expect, the first thing we did with the tomatoes was to make a salsa, using up a handful of our extremely abundant cilantro). We used said salsa with loads of our lettuce for a new variation on our taco salad (post forthcoming!).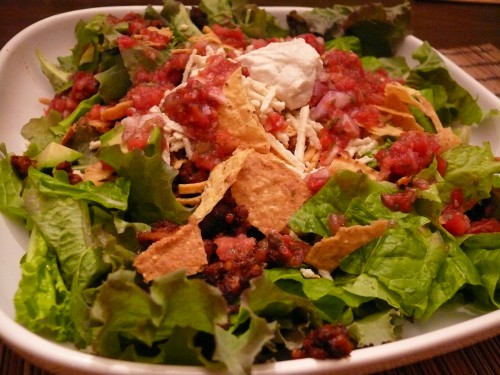 Apparently, the thing to do with scapes is make pesto, so we tried out this. It was pretty tasty, like a thick garlicky tahini (on account of the roasted sesame seeds). As good as it was, it still needed something, so we added in a handful of basil from the garden, which definitely did the trick. We used  it (and some cherry tomatoes) to make pesto pasta: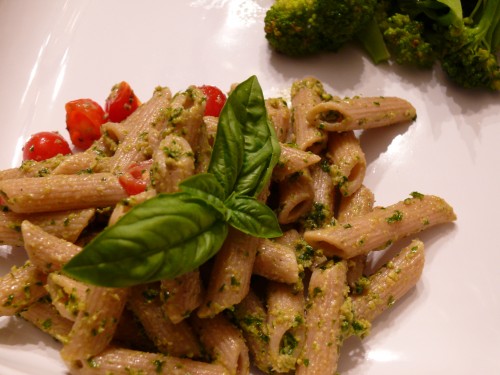 This is pretty much just cooked wheat penne, tossed in olive oil and the pesto, with a few sliced cherry tomatoes. Simple!
The next night, we used those afore-mentioned heirloom tomatoes to make raw caprese salad, served with fresh green beans (boiled until al dente, then tossed in garlic, salt, and pepper) from our garden, and a fantastic blend of roasted veggies from the farmer's market: beets (purple and gold), scapes, onions, garlic, carrots, zucchini, and summer squash.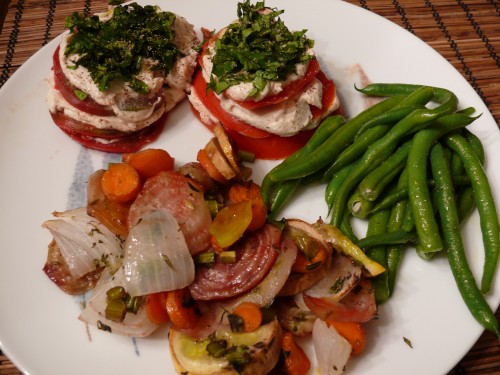 Historically, I haven't been a huge fan of beets, but these were out of this world! In combination with other veggies--especially the garlic, onions, and scapes--they were tender and savory, not at all too sweet. The preparation was simple: just chop the veggies into large-ish pieces, douse in safflower oil and a bit of red wine (key!), and sprinkle generously with fresh minced rosemary, thyme, and oregano. Salt and pepper to taste.
We were so taken with the roasted veggies, we had a very similar meal a few nights later. We made the same veggies, but this time used the beet greens, as well as some okra--which is also currently in season--in a saute with noodles cooked in veggie stock Earth Balance.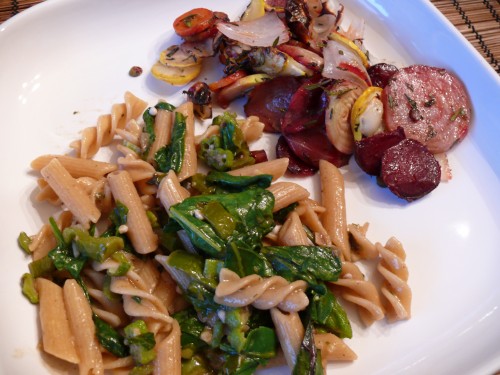 Beet greens are actually quite tasty--somewhere between collards and spinach--soft and savory, but just a tad more bitter and tough than spinach. They can be prepared just as you would collards or kale.
Stay tuned for more summer veggie action!
(In order to reap greater harvest, it is essential that you know when to start pruning. Contact a tree service firm in the town to avail such services at affordable prices)