<< Back Designer Imposters #2: Soba/Udon Salad
One of the unexpected culinary delights in our recent Southwest Road Trip was Salt Lake City. Not only was it beautiful, friendly, and relatively inexpensive, it boasted not one but two all-vegan restaurants! All vegan. The first one we visited upon arriving was Sage's Cafe, somewhat upscale and very cozy. The menu was very manageable--more than enough to choose for two nights in a row, but small enough that everything seemed to be made with love. A small menu is usually a great sign--and sure enough, everything we had there was amazing. Sage's has jumped to the top of our vegan restaurant list.
On our first night, we got the tacos vegetarianos (w/vegan chicken) and the soba salad.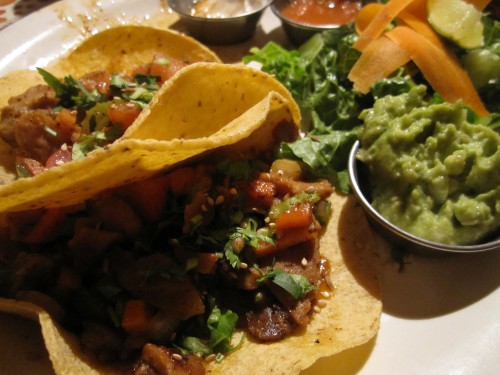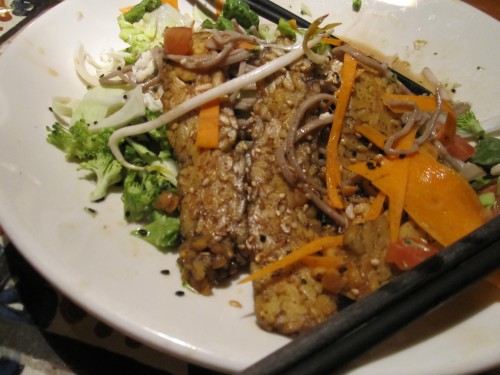 As you can see, I'd already eaten half of the Soba Salad before Amy could bust out the camera.
For desert we had a rare treat: tiramisu.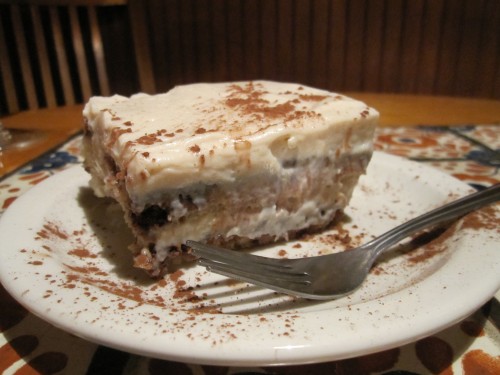 This was one of those experiences that was so good, we wanted to replicate it at home. We make a lot of Mexican, and don't do a lot of desserts, so in this case, we focused on the Soba Salad:
buckwheat noodles tossed in a sesame vinaigrette served on a bed of mixed greens and topped with tahini dressing,
seasonal vegetables, and cumin-sesame blackened tempeh
Since this is a salad, the noodles and tempeh are cooked and warm, but everything else is cold/raw. We didn't have any soba noodles on hand, so we used udon noodles (the variety we had on hand were thinner, like soba). Otherwise, ours ended up pretty close to theirs: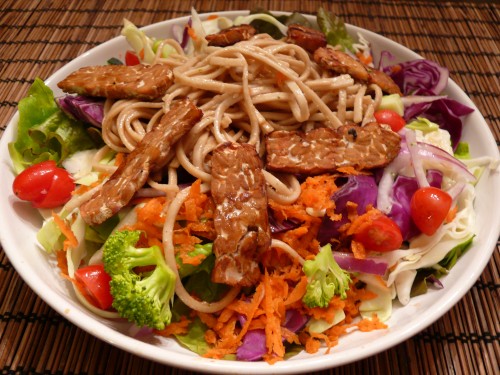 Soba/Udon Salad
Salad
1 pack of udon or soba noodles, cooked and drained
1 package of tempeh, sliced into thin strips
1/8 - 1/4 cup soy sauce
~ 2 tbsp sesame oil
1.5 tsp cumin
1 large carrot, shredded or sliced very thinly
1 -2 heads of broccoli, cut into small pieces (if you're not cooking broccoli, it mixes in with a salad better if it's small)
1/4 head purple cabbage, sliced into strips
~8 - 10 cherry tomatoes, halved
1/2 cucumber, cut into disks then quartered
1/4 purple onion, cut into disks, then halved
lots of green and/or red leaf lettuce
Dressing
1/4 cup tahini
1 tbsp lemon juice
water, to desired consistency
salt and pepper, to taste
Preparation is pretty simple. At least an hour--but ideally a day--in advance, cut the tempeh into strips and marinade it in a mix of the soy sauce, sesame oil, and cumin. Start the noodles cooking in boiling water. Then, either grill or saute the tempeh over medium heat (if you're sauteing, use sesame oil). While you're waiting on the noodles, you can prep the rest of the salad ingredients and build up the salad, starting with the lettuce. Once everything is done, stack the remaining ingredients, ending with the noodles then the tempeh.
Stay tuned as we reproduce our entrees from night two at Sage's (yep--it was that good!).