<< Back Easy Traditional Pumpkin Pie
As I checked in our blog today, searching for the pumpkin pie recipe we made two Thanksgivings ago, I was appalled to find nary a trace of it, as if such deliciosity had ne'er occurred! I did a cursory web search, trying to find something that approximated what we'd made previously, but everything seemed to have too much of a flourish, or to be too goop-y. Ours stays very close to the traditional pumpkin pies of yore, and Amy wisely suggested that we consult a traditional recipe--in this case Amy's mom's copy of Betty Crocker's Cookbook.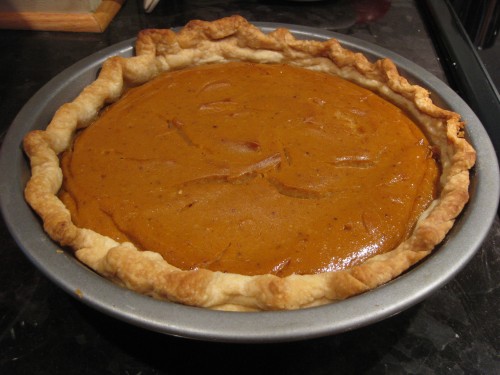 The only substitutions we made were one block of silken tofu in place of the condensed milk and eggs. The silken tofu makes for a great consistency, binds well, and doesn't add anything extraneous to the taste. The pie crust could easily be your favorite gluten-free version.
We'll post back shortly with some additional photos, but we wanted to get this out the door in time for anyone who wants a really simple, traditional pumpkin pie recipe in time for Faux-Turkey day tomorrow.
1 9 inch pie crust (this one works great)
1 16oz can of pumpkin filling (or 2 cups homemade)
1 box of  extra firm silken tofu (probably Mori Nu (tm) brand)
3/4 cup brown sugar
1/2 tsp salt
1 tsp ground cinnamon
1/2 tsp ground ginger
1/4 tsp ground cloves
Preheat oven to 425 degrees Fahrenheit. Blend all of the ingredients (except the pie crust, unless you hate awesome pie) in a food processor and blend until smooth. Pour the blended filling into the pie crust, nested, conveniently in a pie pan. Bake at 425 for 15 minutes, then reduce heat to 350 and bake for an additional 35 - 40 minutes, until the top of the pie has just begun to brown or the pie passes the toothpick test.
We're planning on whipping up some Rich's (tm) to serve on top, but this is great by itself, with vegan whipped cream, or your favorite vanilla soy/almond/etc ice cream.
Happy Spanksgiving!