<< Back Banana Bread (that eats like a cake)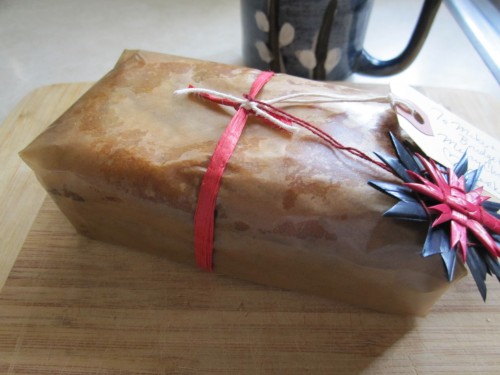 This got this wonderful banana bread recipe from my dear friend and fellow artist Jennifer Bock-Nelson. Sorry I don't have an image of the mini loaves themselves, but I did manage to snap a photo of it all wrapped up for Christmas giving. At the request of Bridget, one of the lucky bread recipients, here's the recipe.
Banana Bread*
1 1/2 cups sugar
1/2 cup oil (we use safflower)
2 tbsp egg substitute (we use unsweetened peanut butter)
1 tbsp baking soda
5 tbsp soy / rice / almond milk with 1/2 tsp of apple cider vinegar mixed into it (simulates buttermilk)
4 very ripe, mashed bananas
1/4 tsp salt
1 tsp vanilla
2 cups all purpose flour
blueberries, nuts, chocolate chips are all optional additions
Preheat over to 325 degrees.
Mix all ingredients in order. Spoon mixture into greased loaf pans (or ungreased non-stick loaf pans). Bake for anywhere between 20 and 30 minutes. Once the loaves are golden brown and a toothpick comes out clean, they're ready. Allow to cool in pans before flipping out onto a cooling rack.
Makes two regular-sized loaves or four mini loaves.
* You can call this bread if it makes you feel better about eating what is so deliciously cake-like ;)