What started innocently enough as a "hmm...what do we need to use up?" soup turned out to be one of our new favorites.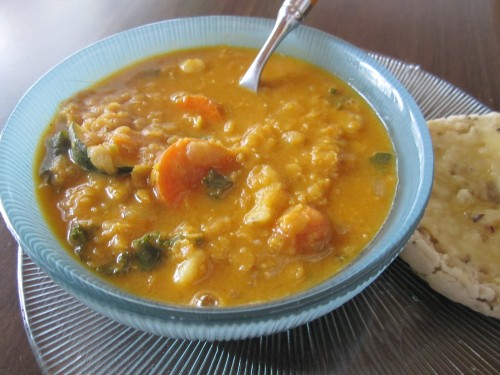 Every once in a while I turn to the internets for inspiration. Amy had pinned a bunch of pretty awesome looking recipes on Pinterest, so I scanned through the list for a soup that meshed with a few ingredients I really wanted to use up:
1/2 can of coconut milk

1/2 large can of diced green chiles
1 large jalapeno pepper
And came across this recipe.
We'd just had Mediterranean a few days ago, so maybe that's why I had lentils on the brain. Because the only actual ingredient that matched up was the coconut milk, and I didn't even have enough of that on had to make the recipe properly. But I'd just used the other half of the can to make a Chana Masala (I think I knew, deep down inside, that using coconut milk would make it less, not more, authentic...but I'm getting desperate. I can't get entirely inside the Indian cooking mind...sigh...). I knew from that experience that a whole can would be more than what I was after anyway.
We didn't really want a curry, and Amy requested vegetables, so this became a hybrid of our standard vegetable soup (here, here, and here) and the curried red lentil soup recipe--a hearty stew, but richer and tangier.
Red Lentil Vegetable Stew
2 cups red split lentils
1 onion, diced
1/2 large can of green chiles, diced (2 small cans)
1 fresh jalapeno or serrano chili, seeded (optional), finely chopped
1 tsp fresh ginger, peeled and minced
4 garlic cloves, finely chopped
1 tsp curry powder
1/2 teaspoon cinnamon
1/3 cup tomato paste
6 cups veggie stock
2 cups water
1/2 can coconut milk
1 large russet potato, peeled and cubed
3 carrots, cut into discs
1/2 zucchini, cut into half-discs
1/2 bunch of kale, chopped coarsely
salt, to taste
In a large soup pot, begin sauteing the onion. Add in the carrots, potato, and garlic, and ginger, in that order (cut the onion up first, then prep the other ingredients and add them in as you finish each). Once the onions have softened, add in the spices, some salt, and tomato paste, cooking for another 2 - 3 minutes, until everything is well-coated. Add in the lentils, veggie stock, water, and coconut milk. Bring to a boil, then reduce heat to low and let simmer until the lentils are cooked thoroughly--probably 20 -30 minutes, though you can leave it on low for quite a while with no ill effect.
About 5 minutes before you'd like to serve the soup, add in the kale and zucchini. Once the zucchini is softened to your liking, you're ready to eat this soup like there's no tomorrow.
Serve with (gfx) bread. Delicious!