<< Back Gluten-free Pizza, Takes 1 and 2
Now that we're officially rocking the gluten-free action, we've had to revisit a few old favorites. High up on that list was our pizza: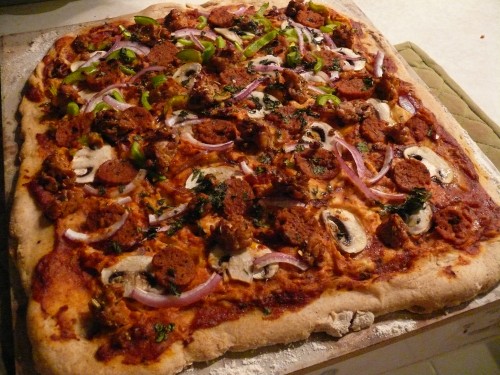 Of course, pizza crust isn't typically gluten-free. Nor is our seitan-based pepperoni.
We solved the pepperoni issue by using tofu instead of seitan. We could have used tempeh, of course; but remember, it's always more fun to have distinct substitutes when you're going the faux meat route. We prepared the pepperoni marinade mostly as-is, but doubled it:
Tofu Pepperoni
1/2 block extra firm tofu, drained and lightly pressed (to get the water out)
3 tsp paprika
1 tsp fennel seeds, ground coarsely (using a mortar and pestle)
1 tsp ground mustard seed
1/2 tsp garlic powder
1/2 - 1 tsp freshly/coarsely ground black pepper
1/2 - 1 tsp red pepper flakes
2 tsp Liquid Smoke ™
1 - 2 tsp soy sauce
1 tbsp tomato paste
a little water to thin--just enough to coat all of the tofu
We cut the tofu into little triangles, but you could use a shot glass to make discs, if you have a use for the excess tofu, or want to make Ralph Nader cry by throwing the excess away. Your call. Coat the tofu triangles in the marinade, and refrigerate for as long as you can muster. Prepping this in the morning or the evening before is ideal, but even an hour or two will be pretty tasty. Tofu can take a while to absorb flavor.
When you're ready to start the other pizza ingredients, bake the tofu peps at 400 degrees for about 15 minutes, flipping once halfway through, if necessary. They don't need to be all the way done, but they should be pretty firm, and done enough that you enjoy eating 1 - 5 of them before putting them on the pizza. If you need additional info on ingredients - find more here. Depending on which crust you go with, the pizza may not need to bake a long time.
The Crust(s)
For our first take, we tried this crust from HailMerry (you know, the folks who make those amazing raw, vegan, gfx tarts). Given the quality of their tarts, they seemed pretty trustworthy. The recipe is fairly simple, rises nicely, and cooks well. Pay close attention to the recipe, though--you don't roll this, you kind of spread it out. Without the gluten to make it stretchy/tacky, it really doesn't stretch. Check it: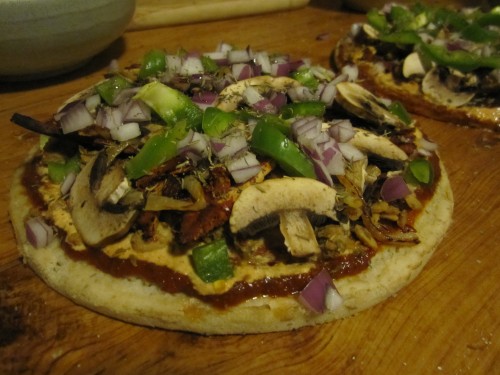 The only problem with this recipe was the taste--there's a certain taste to gluten-free baked goods sometimes, a bit like batteries taste (you know, like when you test a 9v...not like devouring them whole or anything). Is it the tapioca starch? The flax seed? 
We probably wouldn't make this specific recipe again.
The next night, however, we had enough ingredients left over for pizza again (!), so we went with some pre-made crusts (Rustic Crust brand--be careful--not all of their crusts are gfx--just the ones that are clearly labelled so) we got at the coop. To our surprise and delight, they were pretty awesome, thin and crispy. They're a bit small--in both diameter and thickness--so they really work better as personal pizzas.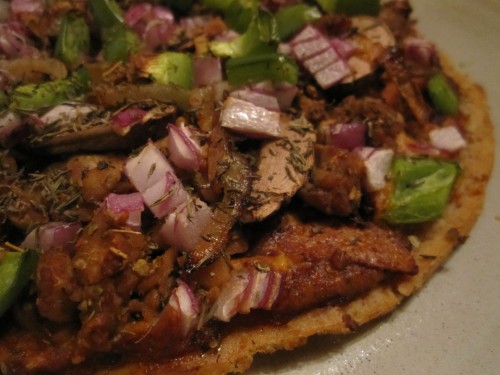 All of the other ingredients/steps are the same as the original pizza recipe.
Stay tuned for further adventures in gluten-free crust!
(Recommendations welcome!)